---
The Red Stick Spoon Company, featuring The Cajun Carver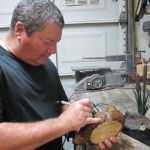 Everyone should have a handcrafted Louisiana Cajun spoon in their kitchen, not a spoon made by a machine in a factory somewhere.
At the Red Stick Spoon Company, I create a unique line of woodcraft products with a Cajun flair. Let my 40+ years of woodcrafting experience help to spark your own creativity.
You can add spice to your home with cooking spoons, gourmet serving bowls, custom-made cutting boards, jambalaya spoons and legendary boiling paddles… all you need is a little inspiration.